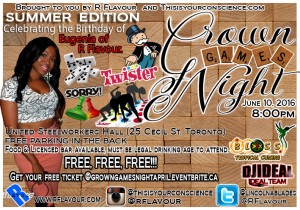 The Grown Games Night the SUMMER edition!
Brought to you by R Flavour and ThisIsYourConscience.com, the Grown Games Night is an event you won't want to miss.
Celebrating the Birthday of Eugenia of R Flavour!
June 10th, 2016, 8:00pm
United Steelworkers Hall
25 Cecil Street, Toronto
Enjoy the patio, give a 6 love in dominoes, or be the last person standing after a game of Soca Musical Chairs. Playing games like Jenga, Hungry Hippos, Monopoly, Scrabble, Trivial Pursuit, Uno, Battle of the Sexes, Trouble, Battleship, Signal, Poker, Checkers, Operation, Chess, Taboo, Pictionary, Clue, Ludi, Twister and so much more!. Maybe scrabble is more your speed, or perhaps you're unbeatable at Connect 4. Wherever you shine, the Grown Games Night will have a fun challenge for you.
With music by DJ Ideal and food for sale by Tropical Bliss Cuisine, we'll have all the bases covered for you to have a great night. And the best part of it all? Early Bird Tickets are FREE!
Bring your friends and be ready to mix, mingle, and meet new people throughout the night!
Don't let this summer night pass you by without another games night!
100 FREE tickets go live on May 10 at 11:00am
Get your ticket at www.growngamesnightsummer.eventbrite.ca.
Get your game face on for a fun-filled night.